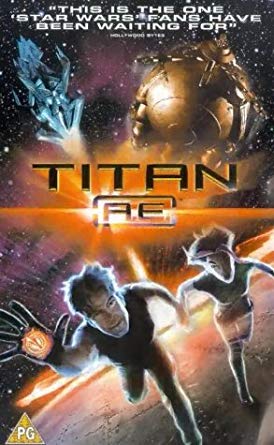 Titan A.E. is a UK VHS/DVD release by 20th Century Fox Home Entertainment on 9th April 2001.
Description
[
]
Cast
[
]
Matt Damon as Cale Tucker, a male yard-salvager who carries the map to Titan in his ring.

Alex D. Linz as Young Cale Tucker

Bill Pullman as Capt. Joseph Korso, the captain of the Valkyrie and old colleague of Sam Tucker.
John Leguizamo as Gune, an amphibian-like Grepoan and Korso's chief scientist.
Nathan Lane as Preedex "Preed" Yoa, a fruit bat-like Akrennian and Korso's first mate.
Janeane Garofalo as Stith, a kangaroo-like Sogowan and munitions officer of the Valkyrie.
Drew Barrymore as Akima Kunimoto, the pilot of the Valkyrie and Cale's love interest.
Ron Perlman as Professor Sam Tucker, Cale's father and a researcher who helped to develop Project Titan.
Tone Lōc as Tek, Sam Tucker's alien friend who raises Cale while Sam is away. At some point during the fifteen years between the destruction of Earth and the events of the film, he has become blind. After the Drej's attack on Tau 14, Tek sends Cale to join Korso in the search for the Titan.
Jim Breuer as the Cook, an anthropomorphic cockroach at Tau 14 who disdains Cale and is killed during the Drej's attack.
Christopher Scarabosio as the Drej Queen, the female ruler of the Drej, who fear the potential of the human species and plan to destroy them.
Jim Cummings as Chowquin, Cale's overseer at Tau 14's salvage yard.
Charles Rocket as Firrikash, an alien salvage yard worker at Tau 14 who bullies Cale.

Charles Rocket also voices a Slave Trader Guard, an alien who surprises Preed with his unexpected intelligence.

Ken Hudson Campbell as Po, an alien salvage yard worker at Tau 14 who bullies Cale.
Roger L. Jackson as the First alien.
Credits
[
]
Trailers and info
[
]
Gallery
[
]