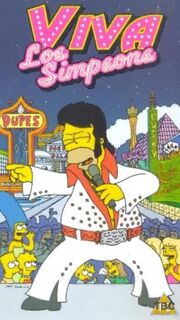 The Simpsons - Viva Los Simpsons is a UK VHS release by 20th Century Fox Home Entertainment on 6th March 2000. The UK DVD released on 18th April 2005.
Description
[
]
Four more animated escapades with Springfield's finest. In 'Homie the Clown', Homer's enrolment at Krusty's new clown college results in him being targeted by the Mob. '$pringfield' sees Marge forming an addiction to gambling after the increasingly Howard Hughes-like Mr Burns opens his new casino. In 'Viva Ned Flanders', Ned asks arch-slob Homer to help him loosen up a little, and all is okely-dokely until he ends up married to a cocktail waitress in Sin City. 'Homer at the Bat' sees Homer's place on the nuclear power plant's baseball team placed in jeopardy when Mr Burns fills his hand-picked squad with major-leaguers. D'oh!
Episode Info
[
]
Homie The Clown -- What do you do when you're a famous clown on the verge of bankruptcy? Open a Krusty the Clown College! And what do you do if you're Homer Simpson? You enrol! See Homer taken on the regional role of a lifetime: Krusty the Clown! Then see Homer become a target for the people Krusty has made very angry: The Springfield Mob!
$pringfield -- It begins with Henry Kissinger losing his glasses in a toilet and ends with Robert Goulet singing the "Batman" version of "Jingle Bells" And in between, Mr. Burns opens a casino for adults, Bari opens a casino for kids, Marge develops a gambling addiction, and Lisa poorly represents the state of Florida! Does legalised gambling shake up the Simpsons? You bet!
Viva Ned Flanders -- When legendary milquetoast Ned Flanders suddenly realises he is leading a boring life, he's left with no choice but to man the ways of woo hoo from his greatest enemy, Homer J Simpson! Homer's crash course in crazy leads the duo to Sin City where they party, gamble, and accidentally marry two cocktail waitresses!
Homer at the Bat -- Mr. Burns is so sure that the power plant softball team will beat their arch rivals, he bets a million dollars that they'll win. Why is he so sure? Cause he's filling the team with real-life major leaguers! But what about heavy-hittin' home-run Homer? Will he be winning the game or warming the bench?
Credits
[
]
Trailers and info (VHS)
[
]
The Simpsons: Raiders of the Lost Fridge trailer
The Simpsons Virtual Springfield advert
Trailers and info (DVD)
[
]
DVD Piracy it's a Crime Advert
The Simpsons DVD Collection Trailer (2004-2005) (High Tone)
Gallery
[
]