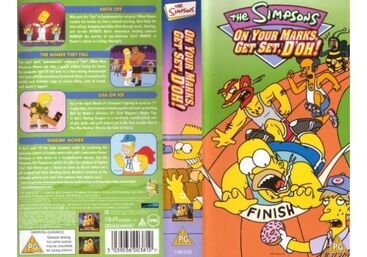 The Simpsons - On Your Marks, Get Set, D'oh! is a UK VHS release by 20th Century Fox Home Entertainment on 4th September 2000. The UK DVD released on 16th August 2004.
Episode Info
[
]
Who puts the "fun" in fundamentalist religion? When Homer crashes the family car into a revival meeting, Bart finds his new calling: bringing the bible alive through music, dancing, and tai-bo! WITNESS Bart's miraculous healing powers! BEMOAN the scarcity of non-delicious fats!! MARVEL at Homer's Salute to College Hazing!!!
You can't spell "palookaville" without a "pal". When Moe discovers Homer can take a punch without losing his lunch, he promotes him all the way to a hair-raising heavyweight title bout with the murderous Drederick Tatum. A sensationally sordid and slammin' saga of vicious blows, tons of dough, and death's repose!
Eye of the tiger! Mouth of a Teamster! Fighting to avoid an "F" in gym class, Lisa becomes a hockey goalie and ends up battling Bart for Homer's affection. It's Chief Wiggum's Mighty Pigs vs Apu's Skating Gougers in a terrifically transformative tale of grit, guile, and guilt played out in the fiery crucible that is Pee Wee Hockey! (Not for the faint of heart.)
It ain't over 'til the baby elephant walks! By combining the awesome powers of Jumbo-vision with public inebriation Homer discovers a new career as a baseball-team mascot. Can the Simpsons find happiness amidst the glitz and glamour of Capital City? Will Homer get a chance to clean up his act before he's all-washed-up? Does Bleeding Gums Murphy's rendition of the national anthem ever end? (The answers may surprise you.)
*Features the guest voices of Tony Bennett, Michael Buffer, Don Cheadle, Tom Poston, Joe Mantegna, Marcia Wallace, and Paul Winfield.
Credits
[
]
Trailers and info (VHS)
[
]
Trailers and info (DVD)
[
]
The Simpsons Generic DVD Trailer (2003-2004)
The Simpsons: The Complete Third Season DVD Trailer
Bonus Feature
[
]
Good Sports Make Sports Good