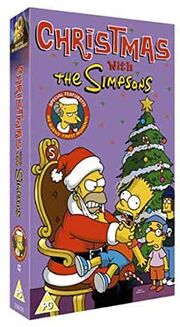 The Simpsons - Christmas with the Simpsons is a UK VHS/DVD release by 20th Century Studios Home Entertainment on 3rd November 2003.
Episode Info
[
]
Simpsons Roasting on an Open Fire -- This Christmas the Simpsons are blessed with a new furry family member. Just when the dysfunctional family thought the Christmas tree would be sparse due to Mr Burns canceling Homer's holiday bonus, Santa's Little Helper arrives.
Mr. Plow -- Barney and Homer go into the snow-ploughing business and find the competition a little hard to bear, with hilarious consequences.
Miracle on Evergreen Terrace -- Springfield pulls together for the Simpsons after they are visited by the mysterious Christmas thief and all their Christmas presents disappear. The town donates $15,000 dollars to the Simpsons' plight and an intense manhunt ensues. But could the real criminal be closer to home than they think ….?
Grift of the Magi -- A sinister toy company unveils Funzo, next 'Tickle Me Elmo'-style fad, to Springfield's Christmas shoppers. Guest starring Gary Coleman as himself and Tim Robbins as Jim Hope.
She of Little Faith -- Desperate for money, the First Church of Springfield decides to rent out its wall space to local advertisers. Horrified at the 'living commercial' the church has become, Lisa withdraws herself from the church and converts to Buddhism. Richard Gere guest stars as himself.
Credits
[
]
Trailers and info
[
]