Jurassic World: Dominion Dominates Fandom Wikis - The Loop
Play Sound
The King and I (1956) is a UK VHS release by CBS/Fox Video on 1st October 1990 and it got re-released by CBS/Fox Video and Fox Video on 31st October 1994 and by 20th Century Fox Home Entertainment on 17th May 1999 and by 20th Century Fox Home Entertainment on 8th March 2004. It got released on Blu Ray by Fox on 7 October 2014.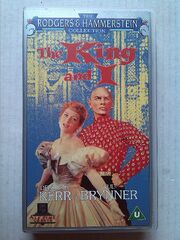 Description
[
]
Deborah Kerr and Yul Brynner star in this classic musical by Rodgers and Hammerstein. When nineteenth century English schoolteacher Anna Leonowens (Kerr) is employed by the King of Siam (Brynner) to educate his many children, she takes her son, Louis (Rex Thompson), along to live with her in the royal palace. Anna, a strong-willed woman, soon clashes with the king, who is used to having his every wish adhered to without question. However, Anna's refusal to bow to his will wins his respect and, eventually, his love.
Songs
[
]
I Whistle a Happy Tune
My Lord and Master
The March of the Siamese Children
Hello, Young Lovers
A Puzzlement
Getting to Know You
We Kiss in a Shadow
I Have Dreamed
Shall I Tell You What I Think of You?
Something Wonderful
Prayer to Buddah
The Small House of Uncle Thomas
Song of the King
Shall We Dance?
Something Wonderful (Reprise, Finale)
Cast
[
]
Deborah Kerr as Anna Leonowens
Yul Brynner as King Mongkut of Siam
Rita Moreno as Tuptim
Terry Saunders as Lady Thiang
Martin Benson as Kralahome
Rex Thompson as Louis Leonowens
Patrick Adiarte as Prince Chulalongkorn
Alan Mowbray as Sir John Hay
Geoffrey Toone as Sir Edward Ramsay
Carlos Rivas as Lun Tha
Judy Dan as Royal Wife (uncredited)
Royal Children (ensemble)
Voice only
[
]
Three actors in the film had their singing voices dubbed by other people. The dubbed voices belonged to:
Marni Nixon as Anna (for which she was paid $10,000[5])
Leona Gordon as Tuptim
Reuben Fuentes as Lun Tha
Credits
[
]
Directed by: Walter Lang
Produced by: Charles Brackett
Screenplay by: Ernest Lehman
Art Direction: Lyle R. Wheeler, John De Cuir
Set Decorations: Walter M. Scott, Paul S. Fox
Film Editor: Robert Simpson, A.C.E.
Special Photographic Effects by: Ray Kellogg
Costumes Designed by: Irene Sharaff
Ballet Arrangements by: Trude Rittman
Consultant in Oriental Dancing: Michiko
Assistant Director: Eli Dunn
Make-up by: Ben Nye
Hair Styling by: Helen Turpin
Sound by: E. Clayton Ward, Warren Delaplain
Director of Photography: Leon Shamroy, A.S.C.
Colour Consultant: Leonard Doss
CinemaScope Lenses by: Bausch & Lomb
Music by: Richard Rodgers
And Book and Lyrics by: Oscar Hammerstein II
From their musical play based on Anna and the King of Siam by: Margaret Landon
Dances and Musical Numbers Staged by: Jerome Robbins
Music Supervised and Conducted by: Alfred Newman
Associate: Ken Darby
Orchestration: Gus Levene, Edward B. Powell, Robert Russell Bennett, Bernard Mayers
Colour by: DeLuxe
A CinemaScope Picture in Cinemascope 55
Produced and Released by Twentieth Century-Fox Film Corporation
CinemaScope is the registered trademark of Twentieth Century-Fox Film Corporation
Sound by: Westrex Recording System
MPDDA/MPAA Number: 17864
Copyright (c) MCMLVI by Twentieth Century-Fox Film Corporation. All rights reserved.
Trailers and info
[
]
Copyright Warning
Fox Video Logo
Musical VHS Releases Trailer
The Rodgers and Hammerstein VHS Releases Trailer
First Few Seconds of the Original Movietone Footage
Last Few Seconds of the Original Footage
The King and I Original Trailer
A Reminder about Trailers
First Few Seconds of the Film
Last Few Seconds of the the End of the Film
Copyright Warning Again
Gallery
[
]