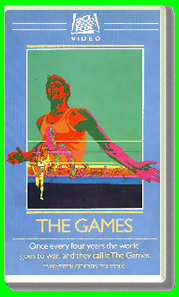 The Games is a UK VHS release by 20th Century Fox Home Entertainment on October 1982.
Description
[
]
Once every four years the world goes to war, and they call it The Games.
A fascinating look into the world of long distance running as four athletes prepare for the gruelling 26 mile marathon in the Rome Olympics. The film follows the athletes - English amateur Michael Crawford, Yale undergraduate Ryan O'Neal, Aborigine mechanic Athol Compton and 41-year-old Czech colonel Charles Aznavour - from their training for the race through to the race itself which produces drama of the kind that only the marathon can provide! Stanley Baker as Crawford's fanatical trainer and Jeremy Kemp as a small-time promoter both have key roles and the screenplay is by Erich Segal (author of Love Story), himself a former amateur marathon runner. A Michael Winner film.
Cast
[
]
Michael Crawford as Harry Hayes, British competitor
Ryan O'Neal as Scott Reynolds, American competitor
Charles Aznavour as Pavel Vendek, Czech competitor
Jeremy Kemp as Jim Harcourt
Elaine Taylor as Christine
Stanley Baker as Bill Oliver
Athol Compton as Sunny Pintubi, Australian competitor
Rafer Johnson, Ron Pickering & Adrian Metcalfe as Commentators
Kent Smith as Kaverley
Sam Elliott as Richie Robinson
Mona Washbourne as Mrs. Hayes
Reg Lye as Gilmour
June Jago as Mae Harcourt
Don Newsome as Cal Wood