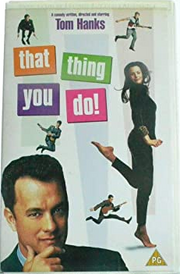 That Thing You Do is a UK VHS release by 20th Century Fox Home Entertainment on 18th August 1997 and 6th April 1998.
Description
[
]
Cast
[
]
Tom Everett Scott as Guy "Shades" Patterson, the Wonders' drummer
Liv Tyler as Faye Dolan, Jimmy's girlfriend
Johnathon Schaech as James "Jimmy" Mattingly II, the Wonders' lead singer
Steve Zahn as Leonard "Lenny" Haise, the Wonders' guitarist
Ethan Embry as T. B. Player, the Wonders' bass player
Tom Hanks as Mr. Amos White
Charlize Theron as Tina Powers, Guy's girlfriend
Bill Cobbs as Del Paxton
Giovanni Ribisi as Chad, the Wonders' original drummer
Obba Babatundé as Lamarr
Alex Rocco as Sol Siler
Chris Isaak as Uncle Bob
Larry Antonino as Scott "Wolfman" Pell
Holmes Osborne as Mr. Patterson
Robert Torti as Freddy Fredrickson
Kennya Ramsey, Julie Harkness, and Darlene Dillinger as the Chantrellines
Chaille Percival as Diane Dane
Eddie Lineberry (Rain: A Tribute to the Beatles) appears as security guard in concert scene
Chris Ellis appears as Phil Horace, the band's first manager.
Kevin Pollak appears as Victor "Boss Vic Koss" Kosslovich.
Paul Feig appears as a KMPC disc jockey.
Clint Howard, actor and brother of Ron Howard, appears as the KJZZ Disc Jockey.
Gedde Watanabe appears as a Play-tone photographer.
Robert Ridgely appears as the Hollywood Showcase announcer.
Peter Scolari, Hanks' co-star in the TV series Bosom Buddies, plays Troy Chesterfield, host of The Hollywood Television Showcase.
Bryan Cranston appears as astronaut Gus Grissom during The Hollywood Television Showcase scenes.
Marc McClure appears as the Hollywood Showcase director.
Tracy Reiner as Anita, the co-star of Weekend at Party Pier.
Barry Sobel has a cameo as "Goofball" in Weekend at Party Pier.
Jonathan Demme, one of the producers of That Thing You Do! and directed Hanks in Philadelphia, has a cameo as the director of Weekend At Party Pier.
Rita Wilson, Hanks' wife, has a small part as Marguerite, the waitress at The Blue Spot jazz club, whose interest in Guy becomes "compromised" when Guy realizes his jazz idol, Del Paxton, is in the club, and shows far more interest in him than in her.
Colin Hanks, Hanks' son, appears as a page at the City of Broadcasting. He can be seen escorting Faye (Liv Tyler) from her car to her seat in the studio audience. His role is slightly expanded.
Elizabeth Hanks, Hanks' daughter with his first wife, appears as "Bored Girl in Dress Shop."
Howie Long appears as Mr. White's driver/partner Lloyd in the extended cut; his part was entirely cut from the theatrical release.
Robert Wagner, a veteran employee of CBS played himself; the sound technician on the boom.
Sean Whalen appears in early scenes as a heckler.
Credits
[
]
Opening (Rental 1997 Re-release)
[
]
20th Century Fox Home Entertainment Warning Screen
20th Century Fox Home Entertainment Ident (1995-1999)
Video Piracy Warning (20th Century Fox) [announced by Jim Carrey]
European Captioning Institute Warning Screen (1995-2005)
Pirate Videos: Daylight Robbery [announced by Michael Angelis]
Video Releases To Rent
Larger Than Life Trailer [announced by Michael Angelis]
The Fifth Element Trailer
Cinema Releases Coming Soon
One Fine Day Trailer [announced by Don LaFontaine]
Fox Video/20th Century Fox Home Entertainment "These Trailers are for Home Viewing Only" Warning
Closing (Rental 1997 Re-release)
[
]
Opening (Original 1998 release) (with no trailer)
[
]
Closing (Original 1998 release) (with no trailer)
[
]
Trailers and info
[
]