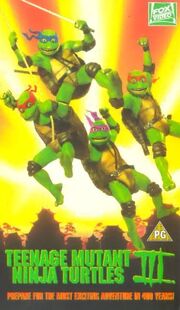 Teenage Mutant Ninja Turtles III is a UK VHS release by Fox Video on 20th September 1993 and 6th June 1994.
Description
[
]
Cast
[
]
Live actors
[
]
Paige Turco as April O'Neil
Elias Koteas as Casey Jones / Whit
Stuart Wilson as Walker
John Aylward as Niles
Sab Shimono as Lord Norinaga
Vivian Wu as Mitsu
Henry Hayashi as Kenshin
Travis A. Moon as Yoshi
Voice cast
[
]
Brian Tochi as Leonardo
Corey Feldman as Donatello
Tim Kelleher as Raphael
Robbie Rist as Michaelangelo
James Murray as Splinter
Rist and Tochi (who did the voices of Michaelangelo and Leonardo, respectively) are the only two voice actors to voice the same character throughout all three live-action TMNT movies. However, Corey Feldman voiced Donatello in both this and the first movie.
Puppeteers
[
]
Jim Martin as Leonardo (face performance)

Mark Caso as Leonardo (in-suit performer)

Rob Mills as Donatello (facial assistant)

Jim Raposa as Donatello (in-suit performer)

Noel MacNeal as Raphael (face performance)

Matt Hill as Raphael (in-suit performer)

Gord Robertson as Michelangelo (face performance)

David Fraser as Michaelangelo (in-suit performer)

James Murray as Splinter (principal puppetry)

Lisa Sturz as Splinter (assisted puppetry)
Tim Lawrence as Splinter (assisted puppetry)
Credits
[
]
Trailers and info
[
]
Rental 1993 Release
[
]
Video Piracy Warning and Logo (Fox Video)
Hot Shots! Part Deux
The Mommy Market
The Man with 3 Lives/Labour of Love
Once Upon a Forest
Mrs. Doubtfire (Coming to a Cinema Near You)