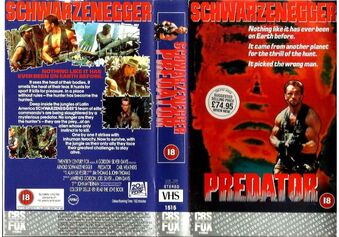 Predator is a UK VHS release by CBS/Fox Video on 1988 and 1989. It got re-released by Fox Video on 1994 and then it got re-released by 20th Century Fox Home Entertainment on 6th April 1998.
Description
[
]
The Future of Predator Army of Predator Star Destroyer.
It sees the heat of their bodies. It smells the heat of their fear. it hunts for sports. It kills for pleasure.
In a place without rules - the hunter has become the hunted.
Deep inside the jungles of Latin America SCHWARZENEGGER'S team of elite commando's are being slaughtered by a mysterious predator. No longer are they the hunter's - they are the prey...of an alien whose only instinct is to kill.
One by one it strikes with inhuman ferocirty. Now to survive, with the jungle as their only ally they face their greatest challenge: to stay alive.
Cast
[
]
Arnold Schwarzenegger as Major Alan "Dutch" Schaefer
Carl Weathers as CIA operative Al Dillon
Elpidia Carrillo as Anna Gonsalves
Bill Duke as Mac Elliot
Richard Chaves as Jorge "Poncho" Ramírez
Jesse Ventura as Blain Cooper
Sonny Landham as Billy Sole
Shane Black as Rick Hawkins
R. G. Armstrong as Major General Homer Phillips
Kevin Peter Hall as The Predator / helicopter pilot

Peter Cullen supplies the Predator's voice, uncredited

Sven-Ole Thorsen as Soviet military adviser
Credits
[
]
Opening Original 1988 release
[
]
Cbs Fox Video Warning Screen 1984-1989
Cbs Fox Video 1984-2000 logo
Wall Street
Date with an Angel
Satisfaction
Saigon
Rampage
20th Century Fox 1981-1994 logo
Troublemaker Studios 1978-1992
Scott Free Productions 1978-1991
Start of Prodator 1987-2003
Trailers and info
[
]
Rental 1988 Re-release
[
]
Wall Street
Date with an Angel
Satisfaction
Saigon
Rampage
1989 Re-release
[
]
CBS/FOX Video All Time Greats (Yours To Keep Forever)
Raw Deal
1994 Re-release
[
]
Aliens: The Special Edition (Available Everywhere for a Limited Period Only)
The Widescreen Collection with clips of "Aliens" and "Die Hard".
1998 Re-release
[
]
Alien Sega with clips of "Alien", "Aliens" and "Alien 3". (Soon)
Alien Resurrection (Coming Soon)