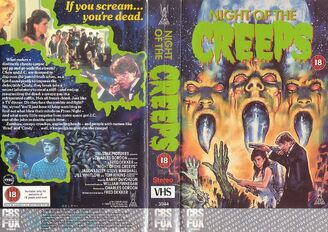 Night of the Creeps is a UK VHS release by CBS/Fox Video on 1988.
Description
[
]
Cast
[
]
Jason Lively as Chris Romero
Jill Whitlow as Cynthia Cronenberg
Tom Atkins as Ray Cameron
Steve Marshall as James Carpenter "J.C." Hooper
Wally Taylor as Det. Landis
Bruce Solomon as Sgt. Raimi
Robert Kino as Mr. Miner
The characters' names are homages to horror directors.
Credits
[
]
Trailers and info
[
]
Rental 1988 Re-release
[
]
Nerds in Paradise
The Squeeze
Nomads
The Boy Who Could Fly
The Pick Up Artist
Nightflyers