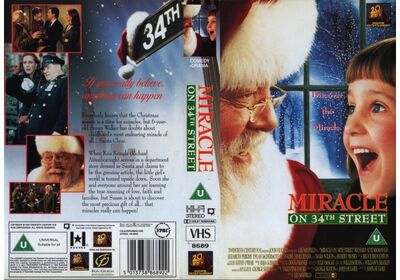 Miracle on 34th Street is a UK VHS release by 20th Century Fox Home Entertainment on 13th November 1995.
Description
[
]
Cast
[
]
Richard Attenborough as Kris Kringle, said to be the real Santa Claus. He reluctantly takes on the duty as Cole's Santa Claus after the original drunk Santa is terminated.
Elizabeth Perkins as Dorey Walker, Susan's mother. She is the director of special events for Cole's, and Bryan Bedford's girlfriend.
Mara Wilson as Susan Walker, Dorey's 6-year-old daughter.
Dylan McDermott as Bryan Bedford, Dorey's boyfriend and neighbor.
J. T. Walsh as Ed Collins, a lawyer
Simon Jones as Donald Shellhammer, the general manager of Coles, known for his departing phrase "Chin-Chin".
James Remar as Jack Duff, a minion under the greedy Victor Landberg.
Jane Leeves as Alberta Leonard, another minion under the greedy Victor Landberg.
William Windom as C.F. Cole
Robert Prosky as Judge Henry Harper, the city judge presiding over Kris' case. He has a grandson who is seen thinking Kris is Santa Claus in the first scene of the film.
Allison Janney as a brazen woman shopper in Cole's Christmas Shopping Center.
Jack McGee as Tony Falacchi, the drunk Santa who was fired from being the Cole's Santa Claus.
Joss Ackland (uncredited) as Victor Landberg, owner of a competing store who is eager to see Cole's go out of business so he can buy out the facility and extend his market.
Credits
[
]
Trailers and info
[
]
Original 1995 release
[
]
Star Wars: The Trilogy Remastered from 1995 with clips of "Star Wars", "The Empire Strikes Back" and "Return of the Jedi".