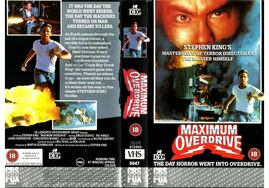 Maximum Overdrive is a UK VHS release by CBS/Fox Video on 12th September 1988.
Description
[
]
IT WAS THE DAY THE WORLD WENT BESERK. THE DAY THE MACHINES TURNED ON MAN AND BECAME KILLERS.
As Earth passes through the tail of a rogue comet, a terrible force is unleashed. One by one they select their victims. Every machine turns-on to cut down mankind. And at the "Dixie Boy Truck Stop" the horror's gone into overdrive. There's no where to go - so now all they can do is blast their way out... It's action all the way in this classic STEPHEN KING thriller.
Cast
[
]
Emilio Estevez as William "Bill" Robinson
Pat Hingle as Bubba Hendershot
Laura Harrington as Brett Graham
Yeardley Smith as Connie
John Short as Curtis
Ellen McElduff as Wanda June
Frankie Faison as Handy
Leon Rippy as Brad
Christopher Murney as Camp Loman
J. C. Quinn as Duncan Keller
Holter Graham as Deke Keller
Barry Bell as Steve Gayton
Patrick Miller as Joey
J. Don Ferguson as Andy
Giancarlo Esposito as Video player
Stephen King (cameo) as ATM man
Trailers and info
[
]
Rental Re-release
[
]
Predator
Saigon
Wall Street
Gardens of Stone
Dudes
Unbearable Lightness of Being