Jurassic World: Dominion Dominates Fandom Wikis - The Loop
Play Sound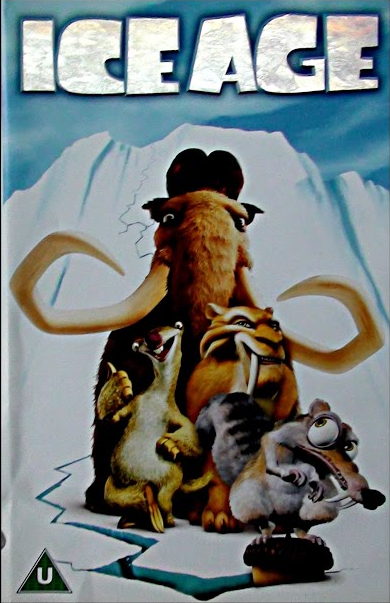 Ice Age is a UK VHS/DVD release by 20th Century Fox Home Entertainment on 21st October 2002. It got re-released as a UK Rental VHS by 20th Century Fox Home Entertainment on 2nd December 2002.
Description
[
]
It's 20,000 years ago and there's a bit of a nip in the air as the Ice Age kicks off. Manfred the well-meaning mammoth, Sid the fast-talking sloth and Diego the duplicitous sabre-tooth tiger form a reluctant and unlikely alliance when they come across a helpless human baby. As they try to return the tot to his migrating tribe, the trio must battle more than just the elements in this harsh world of predators and prey. There's plenty of light relief from the dramatic tension and superb action sequences, notably in the form of the brilliant comic invention Scrat, an apparently insane sabre-tooth squirrel who steals any scene in which he--and his acorn—appear (although a flock of keen but hapless dodos give him a close run for the film's comic laurels).
EMPIRE July 1987
ABOUT WATER; THE MAGIC SHEEP
Cast
[
]
The characters are all prehistoric animals. The animals can talk to and understand each other and are voiced by a variety of famous actors. Like many films of prehistoric life, the rules of time periods apply very loosely, as many of the species shown in the film never actually lived in the same time periods or the same geographic regions.
Ray Romano as Manfred "Manny", a woolly mammoth
Denis Leary as Diego, a Smilodon
John Leguizamo as Sid, a giant ground sloth
Chris Wedge as Scrat, a "saber-toothed" squirrel
Josh Hamilton as Dodo Aardvark
P.J. Benjamin as Dodo
Goran Višnjić as Soto, a Smilodon
Jack Black as Zeke, a Smilodon
Diedrich Bader as Oscar, a Smilodon
Alan Tudyk as Lenny, a Homotherium
Cedric the Entertainer as Carl, a Brontops
Stephen Root as Frank, a Brontops
Tara Strong as Baby Moeritherium
Jane Krakowski as Rachel, a female giant ground sloth
Lorri Bagley as Jennifer, a female giant ground sloth
Kristen Johnston as Sylvia, a female giant ground sloth
Opening (Original 2002 release)
[
]
Closing (Original 2002 release)
[
]
Trailers and info
[
]
Original 2002 release
[
]
The Simpsons Second Season Collectors Edition DVD
Thunderpants Trailer
Christmas Carol the Movie trailer
Like Mike [Coming Soon]
Bonus Features
[
]
"Gone Nutty" Short
The Making of Ice Age
Deleted Scenes