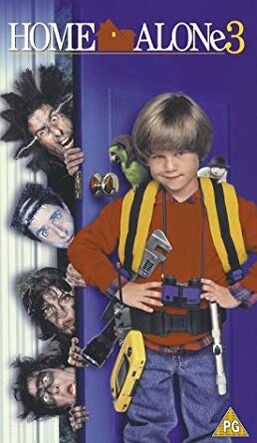 Home Alone 3 is a UK VHS release by 20th Century Fox Home Entertainment on 12th October 1998.
Description
[
]
"Big Laughs. A Real Kid Pleaser!" - Joel Siegel, Good Morning America
The fate of the free world hangs in the balance, but the forces of evil are about to meet their match - and he's only eight years old! From comedy legend John Hughes comes this hilarious, action-packed film for the entire family, Home Alone 3.
A band of international crooks have hidden a stolen, top-secret computer chip inside a toy car, but and airport mix-up lands it in the hands of whiz-kid Alex Pruitt (Alex D. Linz), who's home alone with the chicken pox in a quiet Chicago suburb.
When the criminals zero in on Alex's house with their high-tech gadgetry, madness and mayhem kick into high gear as the pint-sized hero defends his house against the bumbling bad guys - armed with an array of ambushes and booby traps.
Cast
[
]
Alex D. Linz as Alex Pruitt, an 8-year-old boy with a high IQ living in suburban Chicago.
Olek Krupa as Peter Beaupre, leader of the crooks.
Rya Kihlstedt as Alice Ribbons, sole female of the four crooks.
Lenny Von Dohlen as Burton Jernigan, one of the four crooks.
David Thornton as Earl Unger, one of the four crooks.
Haviland Morris as Karen Pruitt, Alex's mother.
Kevin Kilner as Jack Pruitt, Alex's father.
Marian Seldes as Mrs. Hess, Alex's elderly neighbor.
Scarlett Johansson as Molly Pruitt, Alex's older sister.
Seth Smith as Stan Pruitt, Alex's older brother.
Christopher Curry as FBI Agent Stuckey
Baxter Harris as a Police Chief
Neil Flynn as a Police Officer
Nick Jantz as a Police Officer
Darren T. Knauss as the Parrot (voice)
Credits
[
]
Trailers and info
[
]
A Christmas Carol (Coming Soon Only on Video)
Jingle All the Way
Anastasia (Now Available on Video)
20th Century Fox Piracy Warning
Picture Perfect Trailer
Anastasia Home Video Trailer
Cinema Releases Coming Soon
Doctor Dolittle Trailer
FACT Copyright Warning
Ice Age On Video a DVD
Coming Soon to Cinemas
Like Mike Coming Soon