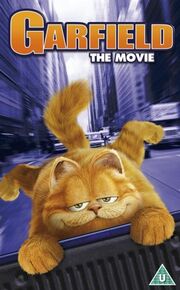 Garfield - The Movie is a UK VHS/DVD release by 20th Century Studios Home Entertainment on 1st November 2004.
Description
[
]
Jim Davis's self-centered, lasagne-loving cat Garfield becomes a star of the big screen in this live action/CGI family comedy adapted from the popular comic strip. Jon Arbuckle (Breckin Meyer) and his pet cat Garfield (voiced by Bill Murray) live in harmony together - until Jon introduces a new member to the family: Odie the loveable pooch. Jon adores Odie, not least because having two pets means twice as many trips to visit the the vet, Dr Liz Wilson (Jennifer Love Hewitt), with whom he is totally besotted. But Garfield is less keen, and orchestrates a 'dognapping' that he hopes should get rid of his rival once and for all.
Cast
[
]
Live action actors
[
]
Breckin Meyer as Jon Arbuckle, Garfield's and Odie's owner.
Jennifer Love Hewitt as Dr. Liz Wilson, Garfield's vet, who became Jon's girlfriend at the end.
Stephen Tobolowsky as Happy Chapman, a local television host, and his brother Walter J. Chapman.
Evan Arnold as Wendell, Happy's butler
Mark Christopher Lawrence as Christopher Mello
Eve Brent as Mrs. Baker
Juliette Goglia as Little Girl
Evan Helmuth as Steward
Joe Bays as Raccoon Lodge Member
Leyna Nguyen as News Reporter
Joe Ochman as Engineer
Rufus Gifford as Dog Owner #1
Garfield creator Jim Davis appeared as an uncredited drunken convention attendee, but his role was cut from the final version of the film.
Voice actors
[
]
Bill Murray as Garfield, Jon's overweight, lethargic, arrogant and free-spirited orange cat.
Alan Cumming as Persnikitty (he renames himself "Sir Roland"), an irascible cat.
Nick Cannon as Louis, a friendly mouse.
David Eigenberg as Nermal, Garfield's dim-witted friend.
Brad Garrett as Luca, a temperamental Doberman Pinscher who guards the house next door to Garfield.
Jimmy Kimmel as Spanky (unnamed in the film)
Debra Messing as Arlene, Garfield's girlfriend.
Richard Kind as Dad Rat
Debra Jo Rupp as Mom Rat
Wyatt Smith, Jordan Kaiser and Alyson Stoner as unnamed kid rats – Kid Rat No. 1, Kid Rat No. 2 and Kid Rat No. 3 respectively
Credits
[
]
Trailers and info
[
]
Piracy. It's a Crime.
FACT
Strawberry Shortcake (Available on Video and DVD)

Two Brothers

(Coming Soon)
Robots (Coming Soon)
The Magic Roundabout (Coming Soon)
Gallery
[
]