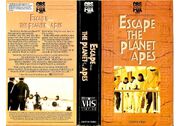 Escape from the Planet of the Apes is a UK VHS release by CBS/Fox Video on 2nd May 1988.
Description
[
]
In this sequel to 'Beneath the Planet of the Apes' Zira (Kim Hunter), Cornelius (Roddy McDowall) and Dr Milo (Sal Mineo) escape the nuclear devastation of the Earth by travelling back in time in Taylor's spaceship, arriving in Los Angeles in the year 1973. They are initially held in captivity in a zoo, where Milo is attacked and killed by a savage gorilla. When Zira and Cornelius prove their intelligence they are released and hailed as celebrities, but some resent the apes' arrival, seeing them as a threat to human supremacy.
Cast
[
]
Roddy McDowall as Cornelius
Kim Hunter as Zira
Bradford Dillman as Dr. Lewis Dixon
Natalie Trundy as Dr. Stephanie Branton
Eric Braeden as Dr. Otto Hasslein
William Windom as President of the United States
Sal Mineo as Dr. Milo
Albert Salmi as E-1
Jason Evers as E-2
John Randolph as the Chairman
Harry Lauter as General Winthrop
M. Emmet Walsh as Aide
Roy Glenn as the Lawyer
Peter Forster as the Cardinal
Bill Bonds as the TV Newscaster
James Bacon as General Faulkner
Ricardo Montalbán as Armando
In this film, actor Roddy McDowall returns to the character of Cornelius which he played in the first film but not in the second. A new ape character of Dr. Milo is introduced played by actor Sal Mineo. Charlton Heston, star of the first film and supporting actor in the second, appears in this third installment only in two brief flashback sequences.
Credits
[
]
Trailers and info
[
]
Gallery
[
]