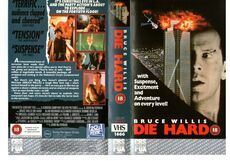 Die Hard is a UK VHS release by CBS/Fox Video on 10th July 1989, and then it got re-released by CBS/Fox Video on 21st May 1990.
Description
[
]
Cast
[
]
Bruce Willis as John McClane, a streetwise New York cop who has come to Los Angeles to reconcile with his wife
Alan Rickman as Hans Gruber, a German mastermind and the leader of the terrorists
Alexander Godunov as Karl, Hans's main henchman and Tony's brother
Bonnie Bedelia as Holly Gennero-McClane, John's estranged wife
Reginald VelJohnson as Sgt. Al Powell
Paul Gleason as Dwayne T. Robinson, the Deputy Chief of Police
De'voreaux White as Argyle, John's limousine driver
William Atherton as Richard Thornburg, an arrogant reporter
Clarence Gilyard as Theo, Hans's tech specialist
Hart Bochner as Harry Ellis, a sleazy Nakatomi executive
James Shigeta as Joseph Yoshinobu Takagi, Nakatomi's head executive
Additional cast includes Hans's henchmen: Bruno Doyon as Franco, Andreas Wisniewski as Tony (Karl's brother), Joey Plewa as Alexander, Lorenzo Caccialanza as Marco, Gerard Bonn as Kristoff, Dennis Hayden as Eddie, Al Leong as Uli, Gary Roberts as Heinrich, Hans Buhringer as Fritz, and Wilhelm von Homburg as James. Robert Davi and Grand L. Bush appear as FBI Special Agent Big Johnson and Agent Little Johnson, respectively, Tracy Reiner appears as Thornburg's assistant, and Taylor Fry and Noah Land make minor appearances as McClane's children Lucy McClane and John Jr.
Credits
[
]
Twentieth Century Fox Presents
A Gordon Company/Silver Pictures Production
A John McTiernan Film
Bruce Willis
Die Hard
Alan Rickman, Alexander Godunov, Bonnie Bedella, Reginald Vel Johnson, William Atherton, Paul Gleason, Hart Bochner, James Shigtea, Bruno Doyon, Andreas Wisniewski, Clarence Gilyard, Jr., De Voreaux White
Music By Michael Kamen
Casting By Jackie Burch
Costume Designer Marilyn Vance-Straker
Visual Effects Produced By Richard Edlund, A.S.C.
Film Editors Frank J. Urioste, A.C.E. and John F. Link
Production Designer Jackson DeGovia
Director Of Photography Jan De Bont
Executive Producer Charles Gordon
Based On The Novel By Roderick Thorp
Screenplay By Jeb Stuart and Steven E. De Souza
Produced By Lawrence Gordon and Joel Silver
Directed By John McTiernan
Trailers and info
[
]
Rental Re-release
[
]
The Abyss
Working Girl
Cocoon: The Return
Dead Ringers
The Hidden
Fright Night Part 2
Alien Nation
Nightmare on Elm Street 4
1990 Re-release
[
]
Big
Working Girl
Die Hard 2
Widescreen Re-release
[
]
The Widescreen Collection with clips of "Star Wars", "The Empire Strikes Back" and "Return of the Jedi" in the Star Wars Trilogy
The Widescreen Collection with clips of "Alien" and "Die Hard"