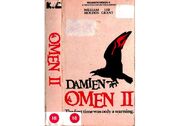 Damien Omen II is a UK VHS release by Magnetic Video on May 1981. It got re-released by 20th Century Fox on 1982.
Description
[
]
The first time was only a warning.
The second chilling instalment in The Omen trilogy with the child anti-Christ Damien Thorn (orphaned in strange circumstances and adopted by Gregory Peck in the first film) now a 13-year-old at a Chicago military academy and one step nearer the White House. Raised by his wealthy uncle (William Holden) he slowly eliminates everyone who stands in his way as he makes inroads into big business and climbs to a position of power. A macabre thriller, marked by several bravura horror passages - a drowning beneath the ice of a frozen lake, a blinding from a raven's beak and death by power cable - and notable supporting performances from Lee Grant, Robert Foxworth, Lew Ayres and Sylvia Sidney. Jonathan Scott-Taylor features as the teenage Damien.

Cast
[
]
William Holden as Richard Thorn
Lee Grant as Ann Thorn
Robert Foxworth as Paul Buher
Lew Ayres as Bill Atherton
Sylvia Sidney as Aunt Marion
Jonathan Scott-Taylor as Damien Thorn
Nicholas Pryor as Dr. Charles Warren
Lance Henriksen as Sergeant Daniel Neff
Elizabeth Shephard as Joan Hart
Lucas Donat as Mark Thorn
Allan Arbus as David Pasarian
Meshach Taylor as Dr. J. Kayne
Fritz Ford as Murray
Leo McKern (uncredited) as Carl Bugenhagen
Ian Hendry (uncredited) as Michael Morgan
Owen Sullivan as Byron
Corney Morgan as Greenhouse Technician
Gallery
[
]