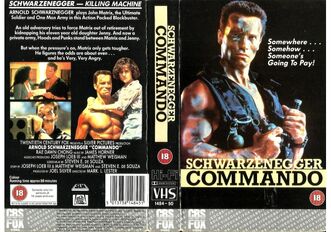 Commando is a UK VHS release by CBS/Fox Video on 18th August 1986, and then it got re-released by CBS/Fox Video on 3rd April 1989. It got re-released by Fox Video on 22nd August 1994. It got re-released by 20th Century Fox Home Entertainment on 3rd November 1997.
Description
[
]
Cast
[
]
Arnold Schwarzenegger as Colonel John Matrix
Rae Dawn Chong as Cindy
Alyssa Milano as Jenny Matrix
Vernon Wells as Captain Bennett
James Olson as Major General Franklin Kirby
David Patrick Kelly as Sully
Bill Duke as Cooke
Dan Hedaya as Arius
Credits
[
]
Twentieth Century Fox Presents
A Silver Pictures Production
Arnold Schwarzenegger
Commando
Raw Dawn Chong, Dan Hedaya, Vernon Wells, James Olsen, David Patrick Kelly, Alyssa Milano, Bill Duke
Music Composed By James Horner
Associate Producers Joseph Loeb III and Matthew Weisman
Edited By Mark Goldblatt, John F. Link, Glenn Farr
Production Designer John Vallone
Director Of Photography Matthew F. Leonetti, A.S.C.
Story By Joseph Loeb III & Matthew Weisman and Steven E. De Souza
Screenplay By Steven E. De Souza
Produced By Joel Silver
Directed By Mark L. Lester
Trailers and info
[
]
Rental 1986 Re-release
[
]
1989 Re-release
[
]
CBS/FOX Video All Time Greats (Yours To Keep Forever)
Raw Deal