Jurassic World: Dominion Dominates Fandom Wikis - The Loop
Play Sound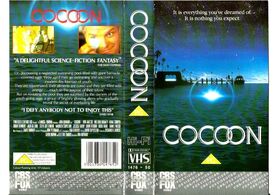 Cocoon is a UK VHS release by CBS/Fox Video on 17th March 1986, and then it got re-released by CBS/Fox Video on 4th June 1990. It got re-released by 20th Century Fox Home Entertainment on 1st September 1997.
Description
[
]
It is everything you've dreamed of. It is nothing you expect. 

"A DELIGHTFUL SCIENCE~FICTION FANTASY"
The Daily Express

On discovering a neglected swimming pool filled with giant barnacle covered eggs, three aged men go swimming and uncover a modern day fountain of youth. They are rejuvenated; their aliments are cured and they are filled with energy...much to the surprise of their wives!

But on revisiting the pool they are surprised by the owners of the youth-giving eggs, a group of brightly glowing aliens who gradually reveal the secret of everlasting life...

"I DEFY ANYBODY NOT TO ENJOY THIS"
Daily Mail
Cast
[
]
Don Ameche as Art Selwyn
Wilford Brimley as Ben Luckett
Hume Cronyn as Joe Finley
Brian Dennehy as Walter
Jack Gilford as Bernie Lefkowitz
Steve Guttenberg as Jack Bonner
Maureen Stapleton as Mary Luckett
Jessica Tandy as Alma Finley
Gwen Verdon as Bess McCarthy
Herta Ware as Rose Lefkowitz
Tahnee Welch as Kitty
Barret Oliver as David
Linda Harrison as Susan
Tyrone Power Jr. as Pillsbury
Clint Howard as John Dexter
Charles Lampkin as Pops
Jorge Gil as Lou Pine
Rance Howard as St. Petersburg detective
James Ritz as DMV clerk
Jim Fitzpatrick as Dock Worker (uncredited)
Casting for the film and its sequel were overseen by casting director Beverly McDermott.
Credits
[
]
Twentieth Century Fox Presents
Cocoon
Directed By Ron Howard
Screenplay By Tom Benedek
Story By David Saperstein
Produced By Richard D. Zanuck, David Brown, Lili Fini Zanuck
Director Of Photography Don Peterman, A.S.C.
Production Designer Jack T. Collis
Edited By Michael Hill, Daniel Hanley
Music Composed By James Horner
Starring In Alphabetical Order Don Ameche, Wilford Brimley, Hume Cronyn, Brian Dennehy, Jack Gilford, Steve Guttenberg, Maureen Stapleton, Jessica Tandy, Gwen Verdon, Herta Ware, Tahnee Welch
Associate Producer Robert Doudell
Casting Penny Perry
Unit Production Manager Robert Doudell, First Assistant Director Jan R. Lloyd, Second Assistant Director Hans Beimler
Costume Designer Aggie Guerard Rodgers
Co-Starring Barret Oliver, Linda Harrison, Tyrone Power, Jr., Clint Howard, Charles Lampkin, Mike Nomad
Special Effects By ILM
ILM Visual Effects Supervisor Ken Ralston
Visual Effects Production Supervisor Mitch Suskin
Trailers and info
[
]
Rental 1986 Re-release
[
]
1990 Re-release
[
]
CBS/FOX Video All Time Greats (Yours To Keep Forever)
Gallery
[
]