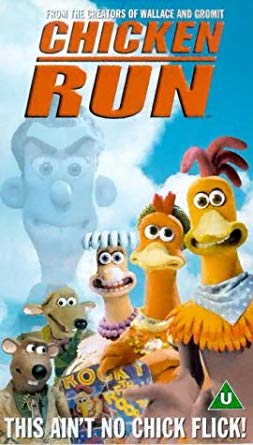 Chicken Run is a UK VHS/DVD release by Pathé! on 4th December 2000. It got re-released by Pathé! on 4th November 2002.
Description
[
]
Trapped behind barbed wire, fearing for their very lives, Ginger, (JULIA SAWALHA) Bunty, (IMELDA STAUNTON) Babs (JANE HORROCKS) and Fowler (BENJAMIN WHITROW) are chickens with a mission.
Ginger and her fellow flock are determined to make a break for freedom but every escape goes "fowl" whey are caught by the evil Mrs. Tweedy (MIRANDA RICHARDSON) and her oafish husband who want to turn them into chicken pies.
When an all-American rooster named Rocky (MEL GIBSON) lands in the farm, Ginger sees her chance - these chickens won't cross the road; they'll fly the coop.
Together they prove that chickens are anything but, as they engage in a daring and spectacular escape.
Cast
[
]
Julia Sawalha as Ginger, a hen who is determined to save her fellow chickens from their impending doom on the Tweedys' farm. She is usually the one that comes up with the ideas and is generally more intelligent than the other chickens.
Mel Gibson as Rocky Rhodes, a laid-back American cockerel who crash-lands into the farm and "teaches" the chickens to fly at Ginger's request.
Miranda Richardson as Melisha Tweedy, a greedy and cantankerous lady who decides to convert her farm into a chicken pot pie factory solely for monetary reasons.
Tony Haygarth as Willard Tweedy, Mrs. Tweedy's oafish, henpecked husband. Despite his unintelligence, he's cruel to the chickens and is more suspicious than his wife of their escape plans, and he correctly identifies Ginger as their leader.
Benjamin Whitrow as Fowler, a feisty elderly cockerel who regularly prattles about his Royal Air Force experiences.
Timothy Spall as Nick, a smart, portly rat who smuggles contraband into the compound.
Phil Daniels as Fetcher, Nick's slim, slow-witted partner.
Jane Horrocks as Babs, a stout hen with a dim-witted innocence and a love of knitting.
Imelda Staunton as Bunty, the champion egg-layer and group cynic who is the most skeptical of Ginger's escape plans.
Lynn Ferguson as Mac, Ginger's brainy Scottish assistant.
Trailers and info
[
]
Original 2000 release
[
]
Video Piracy Warning (Pathé)
Rental Re-release
[
]
Video Piracy Warning (Pathé)
KitKat (Rabbit)
The Star Wars Trilogy with clips of "Star Wars IV: A New Hope", "Star Wars V: The Empire Strikes Back" and "Star Wars VI: Return of the Jedi".
KitKat (Tortoise)
The Laughing Cow: Rooster (2000 UK TV Advert)
2002 Re-release
[
]
Ice Age (On Video and DVD)