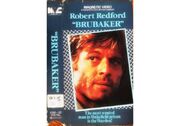 Brubaker is a UK VHS release by Magnetic Video on November 1981. It got re-released by 20th Century Fox on 1982. It got re-released by CBS/FOX on . It got re-released by Fox video on .
Description
[
]
The most wanted man in Wakefield prison is the Warden!
Henry Brubaker (Robert Redford), a newly appointed prison warden, passes himself off as a convict and spends his first few days at the prison observing the squalor and brutality of the institution from the inside. Revealing his true identity to the guards, he sets out on a programme of prison reform but when he discovers the existence of a number of secret graves he uncovers a scandal and corruption among prison officers and local businessmen. This stark, modern drama based on the workings of a real penal institution, contains the best of Redford's recent screen appearances and co-stars Yaphet Kotto and Jane Alexander.
Cast
[
]
Robert Redford as Henry Brubaker
Yaphet Kotto as Dickie Coombes
Jane Alexander as Lillian Gray
Murray Hamilton as John Deach
David Keith as Larry Lee Bullen
Morgan Freeman as Walter
Matt Clark as Purcell
Tim McIntire as Huey Rauch
Richard Ward as Abraham Cook
M. Emmet Walsh as C.P. Woodward
Albert Salmi as Rory Poke
Linda Haynes as Carol
Everett McGill as Caldwell
Val Avery as Wendel
Ronald C. Frazier as Willets
David D. Harris as Duane Spivey
Joe Spinell as Birdwell
Gallery
[
]