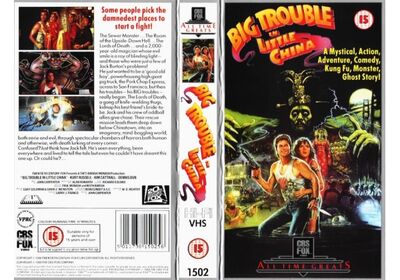 Big Trouble in Little China is a UK VHS release by CBS/Fox Video on 20th July 1987 and 22nd May 1989.
Description
[
]
Cast
[
]
Kurt Russell as Jack Burton
Kim Cattrall as Gracie Law
Dennis Dun as Wang Chi
James Hong as David Lo Pan
Victor Wong as Egg Shen
Kate Burton as Margo Litzenberger
Donald Li as Eddie Lee
Carter Wong as Thunder
Peter Kwong as Rain
James Pax as Lightning
Suzee Pai as Miao Yin
Chao-Li Chi as Uncle Chu
Jeff Imada as Needles
Al Leong, Gerald Okamura and Nathan Jung appears as Wing Kong hatchet men. Lia Chang and Cary-Hiroyuki Tagawa have minor roles as Wing Kong members. Frank Ho and James Lew appear as Chang Sing warriors.
Credits
[
]
Trailers and info
[
]
Rental 1987 Re-release
[
]
Peggy Sue Got Married
8 Million Ways to Die
The Doctor and the Devils
Betty Blue
Latino