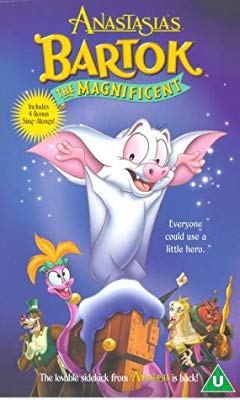 Bartok the Magnificent is a UK VHS release by 20th Century Fox Home Entertainment on 1st November 1999.
Description
[
]
Cast
[
]
Hank Azaria as Bartok
Kelsey Grammer as Zozi
Catherine O'Hara as Ludmilla

Frank Welker as Dragon Ludmilla (uncredited)

Andrea Martin as Baba Yaga
Tim Curry as The Skull, the entrance/guard to Baba Yaga's hut.
Jennifer Tilly as Piloff, Baba Yaga's pet
French Stewart as Oble
Phillip Van Dyke as Prince Ivan Romanov
Diedrich Bader as Vol, Ivan's friend and the Captain of the Guard.
Glenn Shadix as Townspeople
Danny Mann as Head Cossack
A young Grigori Rasputin makes a silent appearance among the crowd at the Romanov castle.
Credits
[
]
Trailers and info
[
]
Anastasia (Buy It on Video)
Rusty the Great Rescue (Coming Soon to Video)
Ever After a Cinderella Story
Croc2 (from Playstation and Fox Interactive)
Bartok the Magnificent Sing-Along