Jurassic World: Dominion Dominates Fandom Wikis - The Loop
Play Sound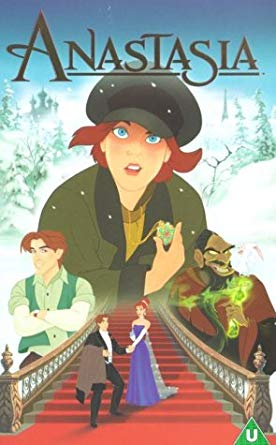 Anastasia is a UK VHS release by 20th Century Fox Home Entertainment on 8th june 1998.
Description
[
]
Based on a true story and brought to life with stunning animation and the voices of Meg Ryan, John Cusack, Kelsey Grammer, Hank Azaria, Christopher Lloyd, and Angela Lansbury, ANASTASIA is an epic tale of breathtaking action and intrigue certain to captivate the entire family! A spellbinding mix of adventure, comedy, romance and music, this acclaimed animated spectacular tells the thrilling story of the lost Russian princess Anastasia and her incredible quest to find her true identity. When the shadow of revolution falls across Russia, the royal family's youngest daughter barely escapes with her life. Years later, Anastasia and a band of heroic companions must battle the evil Rasputin, his sidekick Bartok the bat and a host of ghostly minions in a headlong race to reach Paris, reclaim her rightful destiny...and solve the greatest mystery of the 20th century!
Cast
[
]
Meg Ryan as Grand Duchess Anastasia Nikolaevna of Russia / "Anya", the youngest daughter at the age of 18 and one of two surviving members of the Imperial family.

Liz Callaway provides the singing voice of Anastasia.
Kirsten Dunst voices 8-year-old Anastasia.
Lacey Chabert provides the singing voice of 8-year-old Anastasia.

John Cusack as Dimitri, a young con man, a former servant of Tsar Nicholas II and Anastasia's love interest.

Jonathan Dokuchitz provides the singing voice of Dimitri.
Glenn Walker Harris Jr. voices a younger Dimitri.

Kelsey Grammer as Vladimir "Vlad" Vanya Voinitsky Vasilovich, a former nobleman and a friend of Dimitri.[6]
Christopher Lloyd as Grigori Rasputin, a dangerous and power-mad sorcerer who cast a curse that would claim the lives of all but two members of the Imperial family: Anastasia and Marie.

Jim Cummings provides the singing voice of Rasputin.

Hank Azaria as Bartok, Rasputin's bumbling small albino bat sidekick who serves as the film's comic relief.
Angela Lansbury as The Dowager Empress Marie, the mother of Nicholas II and Anastasia's grandmother.
Bernadette Peters as Sophie Stanislovskievna Somorkov-Smirnoff, Marie's first cousin, and lady-in-waiting.
Andrea Martin as "Comrade" Phlegmenkoff, the orphanage's inconsiderate owner.
Rick Jones as Tsar Nicholas II of Russia, the last Russian Emperor and Anastasia's father.

Rick Jones also voices a Revolutionary Soldier, a servant, and a ticket agent.

Charity James as Anastasia Imposter
Debra Mooney as Actress
Arthur Malet as Traveling Man, Majordomo
J.K. Simmons, Victoria Clark, and Lillias White are among the ensemble and character voices.
Credits
[
]
Trailers and info
[
]
Anastasia: Adventures with Pooka and Bartok – CD-ROM game (Available Now on Windows & Macintosh CD-Rom)
Banjo the Woodpile Cat (New on Video)