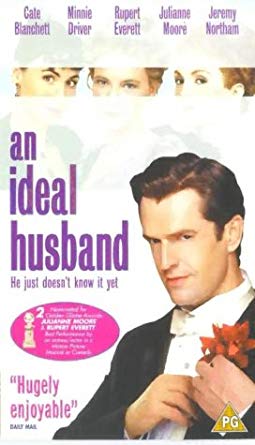 An Ideal Husband is a UK VHS/DVD release by Pathé! on 10th April 2000.
Description
[
]
Sir Robert Chiltern is a successful Government minister, well-off and with a loving wife. All this is threatened when Mrs. Cheveley appears in London with damning evidence of a past misdeed. Sir Robert turns for help to his friend Lord Goring, an apparently idle philanderer and the despair of his father. Goring knows the lady of old and the plot to help his friend has unintended consequences.
The plot of the film differs from the original Wilde play in a number of key respects. The episode of Mrs. Cheveley's lost bracelet was removed, and the twists at the end are made more complex by the introduction of a bet between Lord Goring and Mrs. Cheveley, and Lord Goring's need to ask the permission of Sir Robert Chiltern to marry his sister, Miss Mabel Chiltern.
Cast
[
]
Cate Blanchett – Lady Gertrude Chiltern
Minnie Driver – Miss Mabel Chiltern
Rupert Everett – Lord Arthur Goring
Julianne Moore – Mrs. Laura Cheveley
Jeremy Northam – Sir Robert Chiltern
John Wood – Lord Caversham
Peter Vaughan – Phipps
Ben Pullen – Tommy Trafford
Marsha Fitzalan – Countess
Lindsay Duncan – Lady Markby
Neville Phillips – Mason
Nickolas Grace – Vicomte de Nanjac
Simon Russell Beale – Sir Edward
Anna Patrick – Miss Danvers
Delia Lindsay – Lady Basildon
Credits
[
]
Trailers and info
[
]